SARS-COV-2 Is Not a Computer Virus But It's Disrupting Tech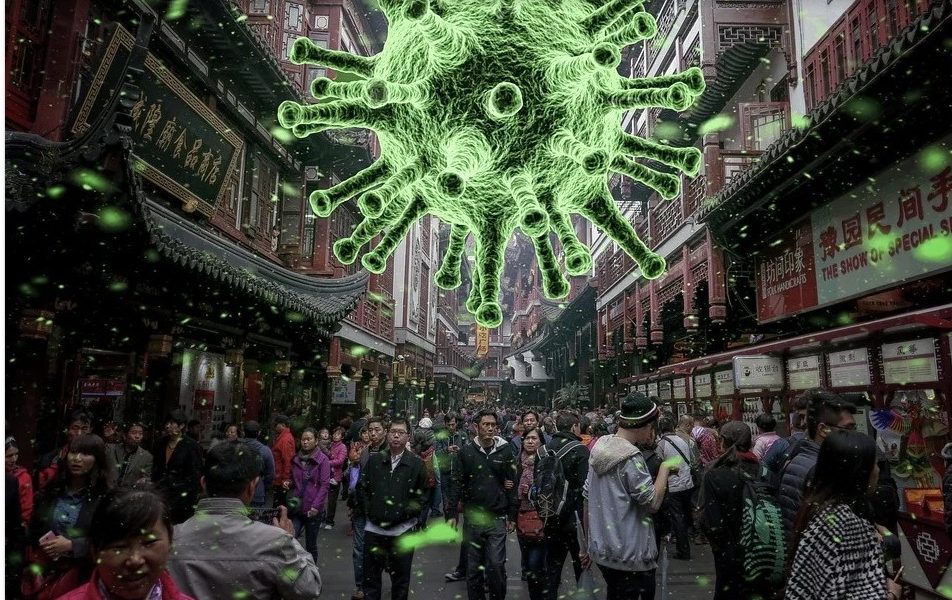 ILOVEYOU, MyDoom, SoBig: These are some of the famous computer viruses and malware that disrupted the tech world. The Philippine-born ILOVEYOU virus or Love Bug infected more than half a million computers, resulting in damages estimated to be around $15 billion. MyDoom is considered as the most damaging virus in history, as it contaminated around a quarter of all emails sent in 2004 and caused approximately $38 billion in losses to businesses and individuals. SoBig from 2003 is likewise devastating as it reportedly brought about $37 billion in damages.
In 2020, a new virus is spreading globally, and it also threatens the world of technology. It's not a computer virus, though. Officially referred to as SARS-COV-2, this biological virus is responsible for the COVID-19 disease. Others may know it as the Wuhan coronavirus or the novel coronavirus, the new disease that is threatening the global population. It's not only a health risk; it's also creating havoc on the technology sector.
Cancelled Tech Events
The impact of SARS-COV-2 is notable on tech events. Organizers have decided to call off their respective conferences, festivals, congresses, and other events as the coronavirus scare made attendance uncertain. The Consumer Electronics Show has been the only major tech event that managed to hold its event as usual.
The annual Mobile World Congress was set for February 25-28 run. However, many of the attending companies said that they were withdrawing from the event. A few days before the MWC commencement, the organizers decided to cancel it, indicating the novel coronavirus threat as the reason.
Similarly, Facebook kiboshed its F8 developer conference, the social networking giant's biggest annual event. In relation to this cancellation, Facebook also announced that it was cancelling its marketing summit scheduled in the first week of March. Additionally, the company withdrew from the SXSW festival, offered free WHO ads to help in disseminating information about the health problem, and enforced a ban on ads that claim to provide a cure for the novel coronavirus.
Meanwhile, the 2020 Geneva Motor Show also faced the axe as the Swiss government banned all events with 1,000 people or more in attendance. The event was expected to debut a number of exotic supercars.
The cancellation of the yearly Google I/O was also inevitable. However, Google did not stop the developer conference in full. The company said that only the physical portion, which was supposed to be held at the Shoreline Amphitheater in Mountain View CA, is cancelled. The Google News Initiative Summit has been set off, but the Cloud Next conference was converted into a digital-only event.
Several other tech events in the next months are likely to be cancelled or at least suspended in light of the rapid spread of COVID-19 worldwide. The Game Developers Conference and Paris Blockchain Week Summit have been postponed, while the Microsoft MVP Global Summit and Dell Technologies World have been converted into virtual events. The World Health Organization does not recommend travel bans, but people are advised to avoid large crowds or activities involving so these changes only make sense.
Supply Chain Woes, Tech Industry Losses
Worse than the cancellation of tech events is the indefinite interruption in the manufacture of tech products. At this point, China is still struggling to control the novel coronavirus, which means the country's factories are still far from operating in their full capacity. Some have not even returned to operating yet.
Statista has a concise illustration of the adverse effects of COVID-19 on tech shipments. Accordingly, in the first quarter of 2020, TV shipments are projected to decrease by 4.5% while video game console and smart speaker shipments are expected to shrink by 10.1% and 12.1% respectively. The projections also spell a gloomy outlook for smartphones, notebooks, and smart watches as they are seen to fall by 10.4%, 12.3%, and 16% respectively.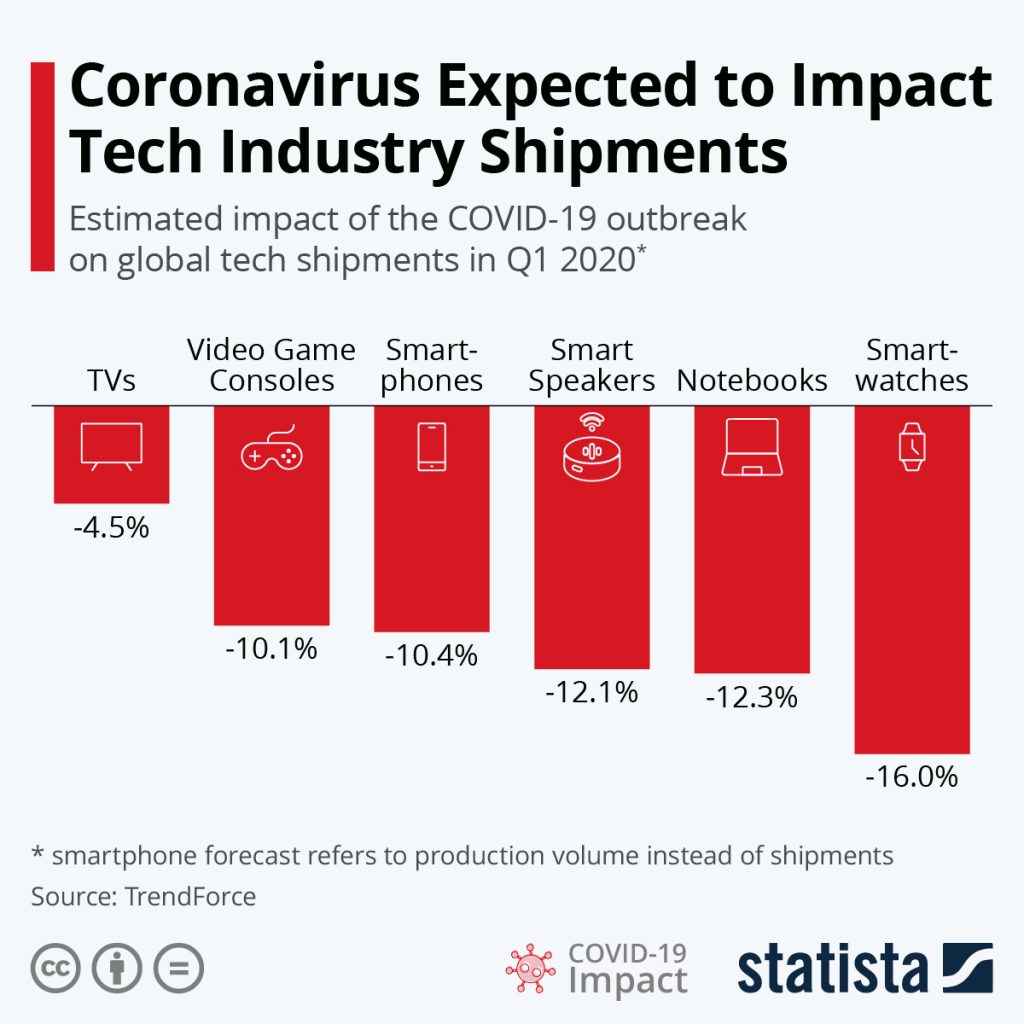 As productions slow down and shipments fall, the tech industry is set for significant losses not only in the first quarter of the year. In fact, the cancellations of major tech events alone have already resulted in an estimated economic cost of over $1 billion. There have been no projections on the expected losses of tech companies yet, but they are most likely heading for hundreds of billions.
Silver Lining
If it's any consolation, the novel coronavirus problem is forcing many tech companies to allow work from home arrangements. Many businesses are now considering remote work setups so that they can continue to operate even without employees reporting to the office. Amazon,Google, Facebook, and Twitter have allowed their employees to telework.
Unfortunately, not all business activities are compatible with remote work arrangements. Manufacturing work, in particular, requires employees to be in their respective workplaces. Teleworking is not going to solve the negative economic impact of the coronavirus, but it contributes something. As companies are compelled to use this setup, they are introduced to the benefits and challenges of remote working, which can allow them to develop or adopt better approaches in using teleworking later on.
The interconnected economies of the world, especially with respect to the tech industry, creates a situation wherein digital and physical problems result in interruptions to both digital and physical realities. SARS-COV-II may not be a digital virus, but its dispersion has widespread consequences in the tech world.