Turn Sign Language into Speech with SignAloud Smart Gloves
Two undergraduate students of the University of Washington developed smart gloves that can translate American Sign Language (ASL) into speech or text. For their invention, the two students, Navid Azodi and Thomas Pryor won the Lemelson-MIT Student Prize in 2016. Their prize money was $10,000.
Soon we'll be able to see these smart gloves in production, which will benefit people who are deaf and hard of hearing. In the United States alone, about 37.5 million adults aged 18 and above suffer from some form of hearing loss. The students' invention has a name. It is now called SignAloud. The gloves can recognize ASL hand gestures. Each unit is equipped with sensors that record the position and movement of the hands and wirelessly send the data over BlueTooth to a computer that translates the gestures into text or speech. The process is similar to an AI-powered neural network. When the system finds a match, the associated phrase or word is spoken through a speaker.
More user-friendly
Several translation devices that can translate sign language are already available. But somehow, most of them are not practical for daily use. Some employ video input. Other devices have sensors that cover the entire arm of the user, and others have sensors attached to the user's body.
In comparison, SignAloud is lightweight, compact, and worn on the users' hands. But with the lightweight material, it is more ergonomic.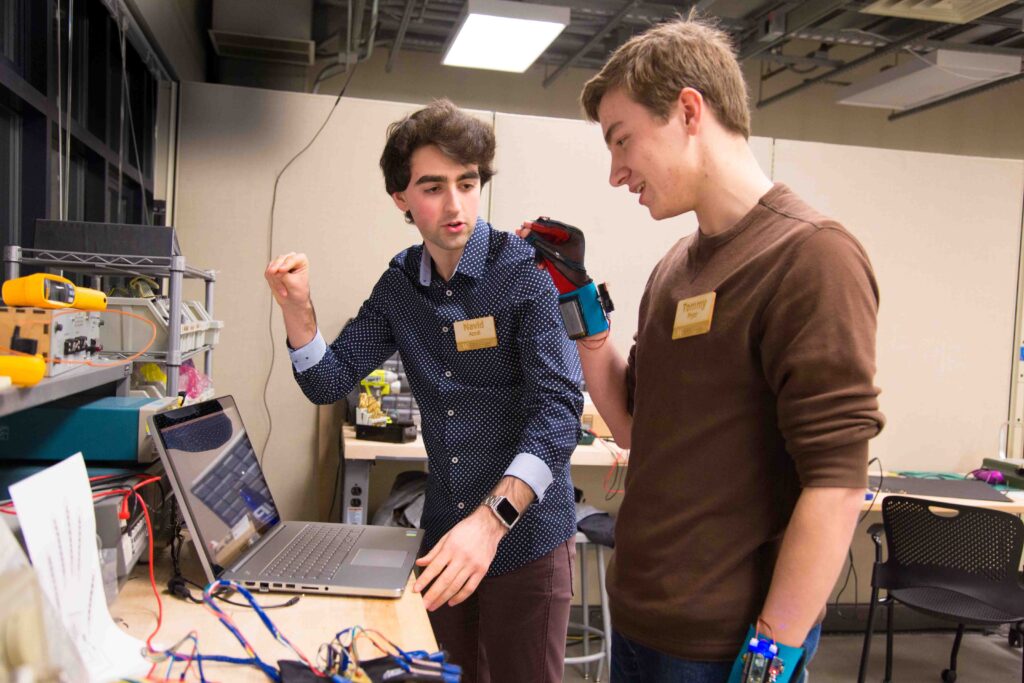 Common passion
The two students met at their dorm during their freshman year. They learned that they have a common passion for problem solving and invention. Since both are experienced volunteers, they thought of creating something that will benefit many people.
These two inventors are bilingual. Pryor speaks English and Spanish while Azodi is fluent in English and Farsi. Language is important to the two of them, and they believed that language is a primal human right. Thus, they created SignAloud to help break down the language barrier for the deaf and hard of hearing.
They finalized their invention at the CoMotionMakerSpace of the University of Washington. It's a campus space where students have access to various tools, opportunities, and equipment to innovate, tinker, and create.
Purpose and support
Azodi and Pryor said that they developed the gloves so that the native ASL speakers and people without hearing disabilities can have an easy-to-use device to communicate. Aside from creating a device for those with hearing impairment, they also want to help those who want to learn and work with ASL. But they are also thinking further, looking at the device's application in boosting dexterity and gesture control in virtual reality and monitoring stroke patients during their rehabilitation.
The student inventors said that ASL is quite complex, and that is what they want to capture with SignAloud – the intricacies of American Sign Language. They did admit that it was very difficult.
SignAloud is in the second iteration, and they said that they will use part of the prize they received to invest in the further development of the gloves to ensure that the device will be more ergonomic and practical to use.
There is too much promise in SignAloud, and many people are already looking forward to its commercial production. Pryor and Azodi want to make SignAloud more ergonomic and user-friendly, as there are already a few similar devices, such as the wearable tech gloves that proved unwieldy and difficult to use. Right now, the inventors are working with the deaf community to find out how they can further refine the glove, make it user-friendly, and make it slimmer.
Hopefully, SignAloud will prove to be more useful in helping people who are deaf and hard of hearing. With the tweaks the inventors are doing currently, pretty soon, the deaf community will have a useful and effective device to bridge the communication gap between ASL speakers and the hearing community.