Sevenhugs Smart Remote Now Available at KickStarter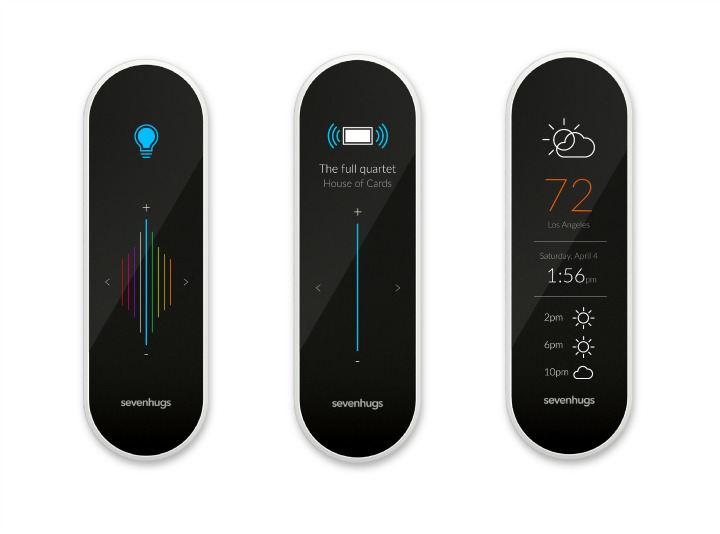 image source: Nick Statt / Theverge.com
Sevenhugs started offering their Smart Remote at KickStarter today. It's hoping to raise $50,000 for a target official launch in June next year. It has also began offering pre-sale on their site at a discounted price, lower than its regular rate, which is $299. The retail kit will come with the Smart Remote, three sensors that can be installed around the room and the charging base.
How the Smart Remote Works
With the advancement of technology, various appliances and devices at home can now be controlled using your smartphone. This is more convenient than having to use different remote controls for each or going to the switch or device itself to turn it on and off, or make some adjustments. However, the reality is that it's not really as quick and simple as it seems.
The devices and appliances must be added on your smartphone app and when you need to access their controls, you have to unlock your phone, access the app, look for the device or appliance that you wish to control and that's the only time that you can make the adjustments.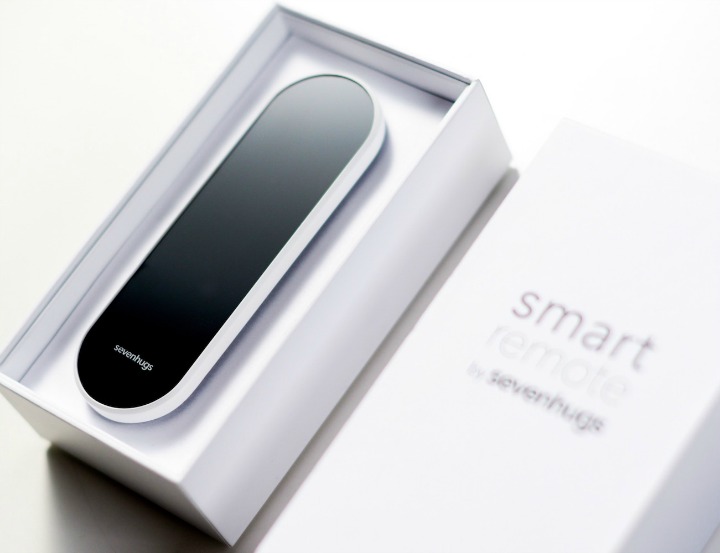 image source: Ashley / thegadgetflow.com
Sevenhugs developed a device that would make this process even faster and more convenient. As mentioned, you will be receiving the Smart Remote, three sensors and a charging base on the retail kit. The three sensors can be strategically placed on the walls of the room so that they will be in triangular position. This ensures strength in signal when the remote tries to sense the devices or appliances connected to it.
The charging base is where you can place the remote when not in use. One good thing about it is that it knows when it's not in use, thus saving battery. It has an app for adding devices that you can download for iOS and Android devices. You still need to add the devices and appliances that you wish to control using the Smart Remote through the said app. In some appliances, you may be asked to log in with your account.
Once you have all the devices and appliances added, you just have to point the remote control to the appliance that you wish to control and its controls will show. For instance, pointing it to your smart TV will show the controls for your TV like the controls for changing the channel and volume, and pointing it on the lights, will give you controls to turn them on or off, and adjust their brightness, if they have this feature.
What's even more impressive is that you can add apps like Uber and have a way to control the app from the remote itself. When you add the app, you can set a specific area on the wall so that when you point on it, the controls for that app will show up.
What Devices are Compatible
image source: Julian Horsey / Geeky-gadgets.com
As of this moment, there are more than 25,000 devices that are compatible with Sevenhugs Smart Remote. There are three ways on how this remote control can connect to your devices and that includes Infrared, Bluetooth and Wi-Fi. Some of the brands that can work with it are Sony, Philips, Yamaha, Roku, Pioneer, Logitech Harmony, Wink and Apple TV. Other compatible brands include TCL, Lutron, Bose, Hue, Nest, Sonos, Samnsung, XFinity, SmartThings, LG, The Weather Channel and Dish Network.
The company said that the remote control might be larger than its current size once it's officially launched as customers are expecting a bigger one. Moreover, they are working hard to make more devices compatible with the remote and hopefully, it can work with every brand in the future.