New Washable Fabric Turns Body Movements into Electricity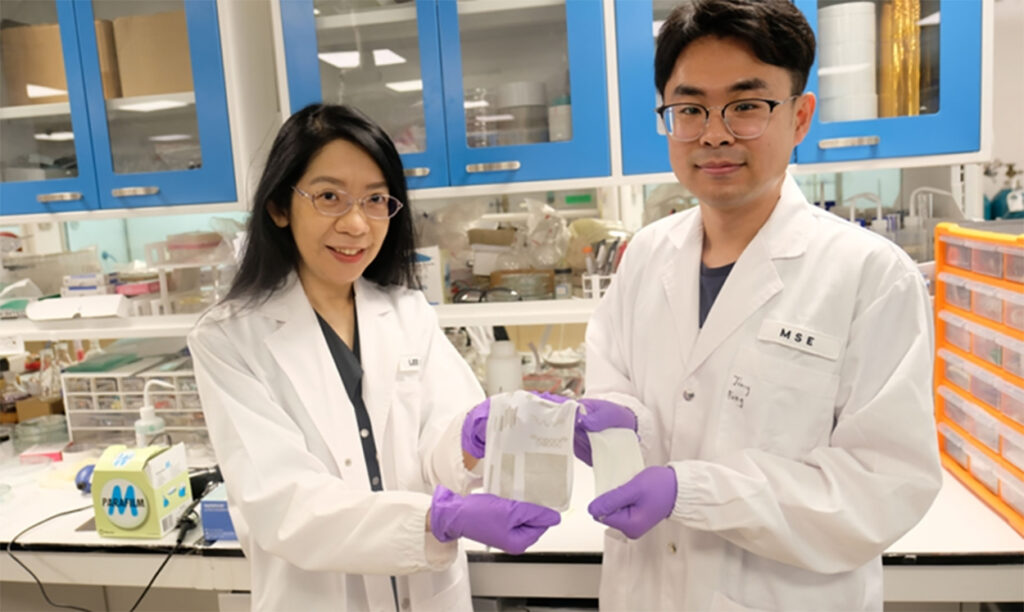 Many researchers worldwide are looking to create wearable devices and tools to help many people. For example, at the Nanyang Technological University (NTU) in Singapore, scientists developed a waterproof and stretchable fabric that can produce electrical energy from the energy human body movements generate.
Special fabric
The fabric is a polymer that can produce electrical energy from mechanical stress. The material, with a base layer of stretchable spandex, integrates a rubber-like material to make it waterproof, flexible, and strong. The scientists fabricated the prototype by first screen-printing a stretchable electrode using an ink made of silver and styrene-ethylene-butylene-styrene. This rubber-like material, often used in handlebar grips and infant teethers, render the products waterproof and stretchable.
The scientists then attached the stretchable electrode to a piece of nanofiber fabric made of poly(vinylidene fluoride)-co-hexafluoropropylene (PVDF-HPF) and lead-free perovskites. These two components create a polymer that produces an electrical charge when stretched, bent, or compressed.
According to Jiang Feng, a PhD student and part of NTU's research team, embedding the perovskites in the PVDF-HPF material increases the electrical output of their prototype fabric. Moreover, they used lead-free perovskites to make their prototype friendlier to the environment. Perovskite is a semiconductor with a crystal structure similar to calcium titanium oxide, often used in solar cells and LEDs.
Jiang Feng added that even if perovskites are naturally brittle, their integration into PVDF-HPF enhanced the crystal's flexibility and durability. The PVDF-HPF material also provides extra protection to the semiconductor and improves its stability and mechanical property.  
Electricity production
In their proof-of-concept experiment, the research team demonstrated that tapping a small piece (3cm x 4cm) of the new fabric could generate enough electrical energy for 100 LEDs to light up.
The team said crumpling, washing, and folding the material did not affect its performance. Their tests showed that stable electrical output could last for five months. Professor Lee Pooi See, the study's leader, said that it became a challenge for them to develop a fabric that would not diminish its function after washing. They also looked for a material that could retain electrical output consistently.
The scientists foresee that the technology could be integrated into the soles of shoes or woven into T-shirts. In addition, the fabric's energy will help provide electricity to various mobile devices. The fabric produces piezoelectricity when it is squashed or pressed. In addition, it generates a triboelectric effect when it rubs against or in contact with different materials, such as rubber gloves or skin.
According to their tests, the prototype fabric can generate 2.34 watts of electricity per square meter. As a result, the scientists are optimistic that they now have a strategy to design multifunctional, self-powered electronic devices that people can wear.
The fabric performs dual functions. It generates electricity and harvests energy from the vibrations produced by body movements. In their experiments, the material harnesses power when they attached it to elbows, hands, legs, and arms. They likewise attached the fabric to the insoles of shoes. The research team based their new study on their previous works, such as the film they developed to harvest energy produced by raindrops or the wind when they attached the material to walls or roofs.