New Movie Projectors Make Movie Watching Portable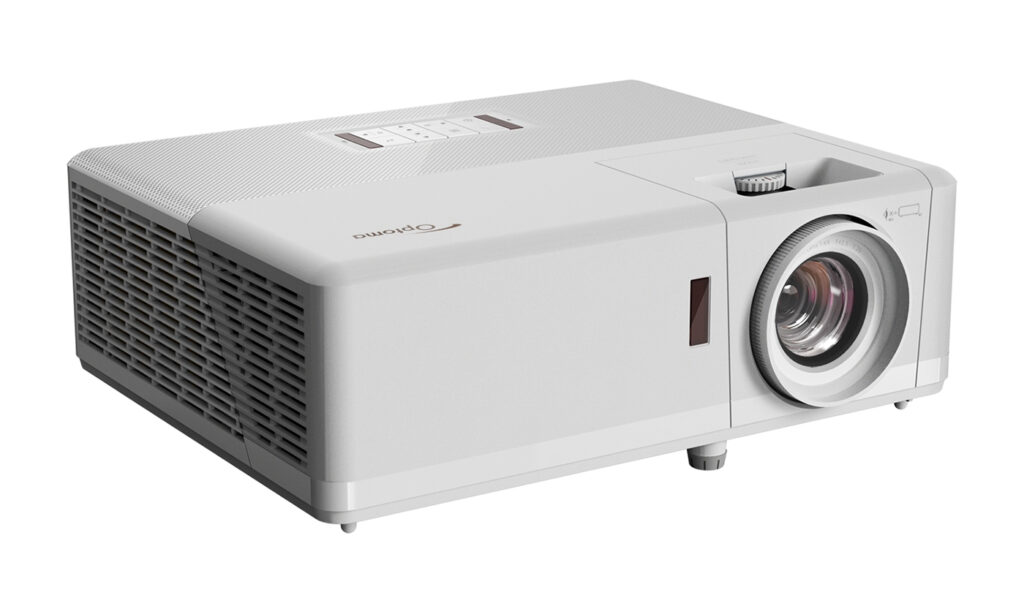 Watching movies on a big screen gives the viewers a more realistic feel that they only used to get when watching films in movie theaters. The advent of large-screen TVs makes that happen, and thousands of households worldwide now have LED TVs.
However, large-screen LED TVs are not portable. Because of their size, weight, and overall dimensions need a steady base or fixed wall brackets.
But there are new ways to enjoy movies on a bigger screen with the new breed of projectors that several manufacturers introduced recently. Some of them have features that allow people to watch movies even with lights on.
Optoma UHZ50 AK
Optoma recently released its UHZ50 4K laser projector that allows you to watch projected movies in well-lit rooms or during the day without looking washed out. According to Optoma, the projector can project movies with vibrant, true-to-life visuals. The projector also has technology that allows the device to compensate for the color of the painted walls.
The company said that their product brings true 4K laser technology to home consumers. The product is meant to reduce costs without sacrificing the quality of their experiences in their home entertainment system. As consumers are often at home, they are looking for more content and home entertainment options that fit their specific needs. Optoma UHZ50 delivers versatility and innovation in the home theater experience to a higher level.
The Optoma projector uses Texas Instruments' DLP technology and the company's own Duracore laser technology. It can deliver 4K UHD (3,840 x 2,160) images onto a screen or wall, with 34.1 to 302.4 diagonal inches in throw sizes. The brightness is rated at 3,000 lumens, which, according to the company, is applicable for daytime viewing. Contrast is at 2,500,000:1 and provides lifelike cinematic colors, thanks to 100 percent DCI-P3 and Rec. 709 color gamuts and HLG and HDR10 formats.
The Wall Feature permits the user to adjust the color accuracy depending on the surface color to project the media content. Using the Optoma projector is like using a large format LED TV, except that it is portable. It can display 3D content from various sources, with HDMI 2.0 ports, 5G Wi-Fi, USB ports, and two 10-watt speakers.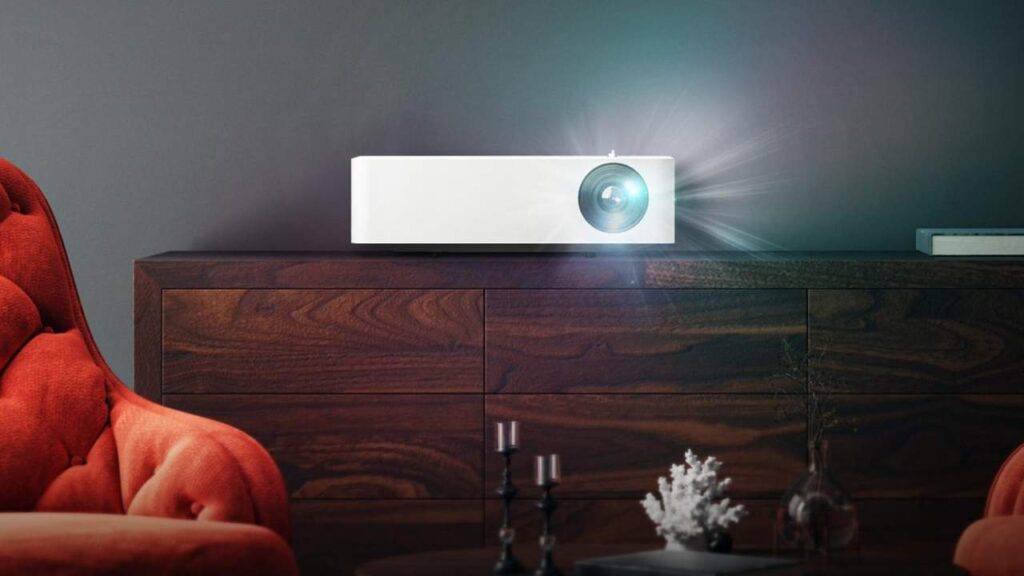 LG Cinebeam PF610P
LG also has a new project, the PF610P, a Full HD LED, a four-channel LED light source the company said will deliver striking clarity and vivid shades up to 120 diagonal inches. It needs to be plugged into the main outlet and get support from two 3-W speakers with Dolby Atmos.
However, LG's projector does not do well in daylight. The projection area should be dim to enjoy the projector's HD media projection fully. The PF610P has Bluetooth, so it is easy to pair it with a wireless speaker. Likewise, it can adjust the audio to sync with what is shown on the screen to avoid lagging. It comes with analog and digital connections so users can pair it ups with cable speakers.
Like Optoma's projector, it is suitable for 30,000 hours, but it only outputs 1,000 ANSI lumens (not ideal for daylight) and a throw ratio of 1.196:1. The contrast is said to be 150,000:1. Its four Corner Keystone makes the projected image proportional even at different angles.
The projector has built-in access to content providers like Apple TV, Redbox, Disney Plus, and Amazon Prime. In addition, it has MiraCast, which is compatible with Apple Airplay 2, so users can share through mobile devices for wireless screen-sharing.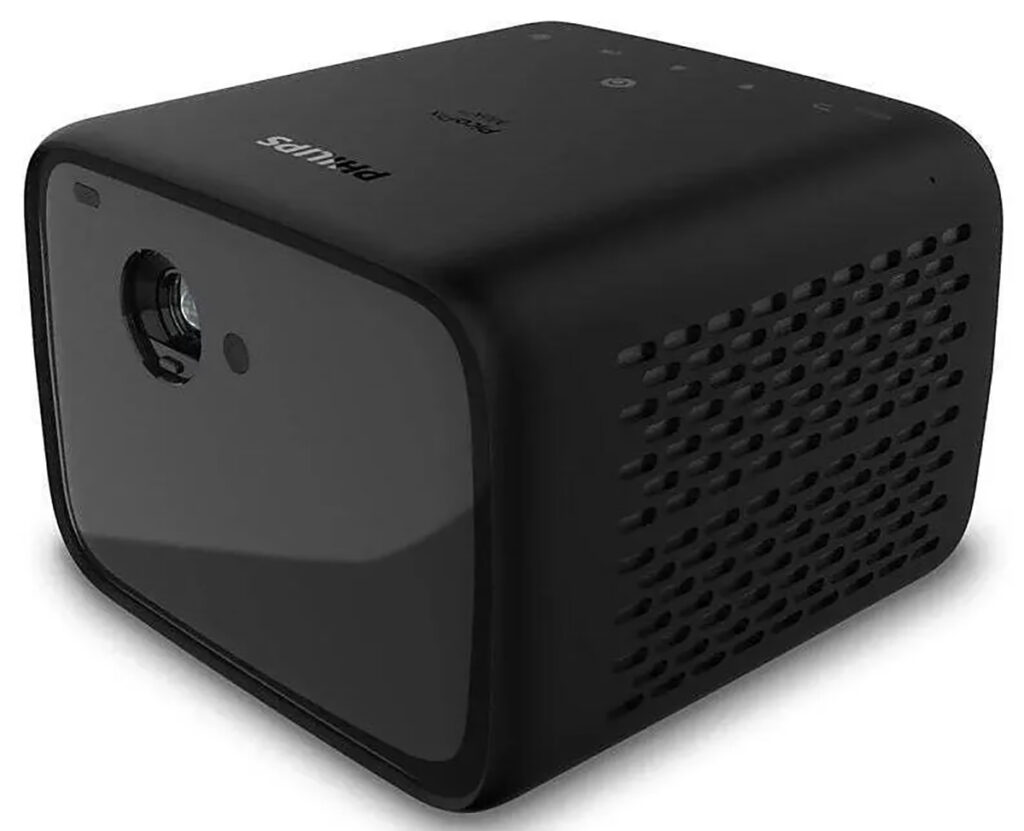 Philips PicoMix MaxTV
Out in the market on the first week of November is the PicoMix MaxTV from Philips. The model from Philips is a new addition to the growing DLP (Digital Light Processing) projects that help replace the big-screen TV, as it makes watching a show portable.
The PicoMix MaxTV has a four-channel light source and native 1080p resolution. Its throw ratio is 1.2:1 for up to 120 diagonal inches on an outdoor or screen projection sheet or a wall. Color clarity is placed at 1,000:1 contrast and 100 percent of the Rec.709 color space.
Contrary to the company's claim of extreme brightness, its official rating is only 900 ANSI lumens, which means that you cannot use it during the daytime unless you dim the lights in your house or wait until evening to have your movie session. However, it has a real-time sensor that automatically adjusts the brightness, depending on the area's light conditions.
The PicoMix MaxTV also includes an HDMI port, 802.11ac Wi-Fi, and Bluetooth 5.0. Moreover, it can run Android TV; thus, it can access a wide range of entertainment apps, like Netflix, Amazon Prime, and Disney Plus. Its two 12-watt speakers are professionally tuned so that you can enjoy high-quality sounds. Moreover, it features four corner correction, auto keystone for placement flexibility, and digital zoom with autofocus.
Among the three, the projector from Optoma is the most expensive. But it does have several features the beat the other two projectors. On the other hand, the price of LG and Philips projectors is almost the same, so it's a matter of your budget and preference.