Make Way for the First Box Style Mirrorless Camera from Panasonic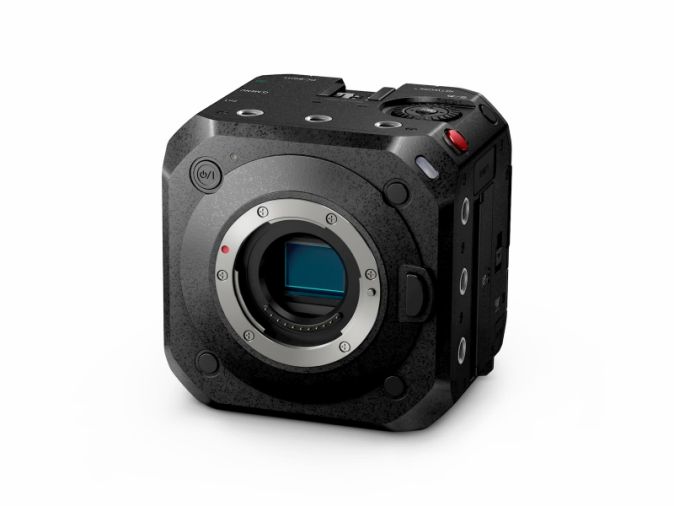 If you're a videographer, you'll rejoice at the news regarding LUMIX BGH1 Cinema 4K Box Camera from Panasonic. This is the first box-style mirrorless camera based on the Micro Four Thirds system designed specifically for different video production, including live streaming, gimbal and drone use, cinema production, vlogging, and multi-camera setups. Panasonic started shipping its Lumix BGH1 box-style mirrorless camera around the latter part of November 2020.
Panasonic considers the Lumix BGH1 a unique cinema, and live event camera that has almost all the features that a videographer needs. It's lightweight, as it only weighs 545 grams (1.2 lbs). It is also very compact, measuring only 93mm by 93mm by 78mm or about four inches square. BGH1 is versatile, expandable, and easy to install.
The compact box camera boasts a number of impressive power-packed features.
Key features
The Lumix BGH1 is a digital cinema camera with an MFT lens mount, a 10.2MP M4/3 sensor optimizing the camera for 4K video recording, and a wide 13-stop dynamic range, which is perfect for extreme light changes. Consider how this small camera can record video with resolutions of up to 4K60, incorporating VariCam Look workflows like Cinelike and V-Log L. It's capable of continuous video recording for up to 270 min at 4K/60p.
It features a dual-native ISO using the camera's Venus Engine, numerous remote and power options, anamorphic support, advanced AF (autofocus), and anamorphic support. For professional color grading, the camera supports HLG (Hybrid Log-Gamma) color so you can already have broadcast-ready HDR.
Several features in this compact and tiny camera make it the latest go-to production camera for multi-camera and mobile production environments.
The BGH1 gives the user different ways to record footage with its MP4 recording formats with H.264 and H.265/HEVC, MOV, and ALL-Intra Long GOP codecs. Its dual SD card slots allow you to have unlimited recording time, and you can record footage either at 4:2:0 10-bit C4K/4K 60p or at 4:2:2 10-bit All-I C4k/4K 30p. There are two output options: 1080p resolution via 3G-SDI and 4K via the HDMI 2.0 output. Another impressive feature is the option to output HDMI and 3G-SDI simultaneously if needed, using one for recording and the other for monitoring. One thing the BGH1 lacks is a built-in screen but you can connect it to a computer to access its interface.
To whet your appetite some more, here are several more technical features:
13 stops of dynamic range
Internal fan to keep camera cool
USB 2.1 Gen 1 Type-C input for control with LUMIX Tether app
2.5mm LANC input for camera control
Gigabit Ethernet via RJ45 for remote control and PoE+ power support
Integrated stereo microphone, 3.5mm mic input, and 3.5mm headphone output
Genlock BNC input/output
Timecode BNC input/output
Direct IP streaming with a future firmware update
Wi-Fi and Bluetooth support to control the camera using a smartphone or tablet
Four programmable Fn buttons
Tally lights on front and rear
Included 12 VDC power adapter
Integrated VBR battery mount
The optional DMW-XLR1 XLR adapter can be installed using the camera's hot shoe
Cable lock
The LUMIX BGH1 maybe small but…
You can already see how powerful the compact and small-sized LUMIX BGH1 Camera is, but there are more impressive capabilities to discover.
A first for the LUMIX is the Ethernet / PoE+ Compatible Camera feature. This means that you can power it using the same cable that connects the camera to a network of up to 12 cameras. Using the supplied Lumix Tether for Multicam app, you can control those cameras at once.
Soon, you can create your own USB camera controllers when Panasonic releases its free software development kit (SDK).
Its Genlock IN and Timecode IN/OUT functions can make multi-angle synchronized video recording simpler. These functions likewise allow you to integrate into a scalable system using third-party gimbals, rigs, and external monitors.
The camera's system includes advanced deep learning technology that can detect specific subjects like fast-moving animals and humans. For the latter, the camera can separately recognize in real-time the head, body, face, and eye, which allows for focusing to be more precise. The technology makes the camera track a subject even if it tilts its head, moves farther from the camera, turns their back to the camera or moves quickly.
With all these amazing and incredible features, are you excited about getting one? The Panasonic Lumix BGH1 Cinema 4K Box Camera sells for about $2,000 in the U.S.