Flying Taxis Will Soon Be the New Mode of Transport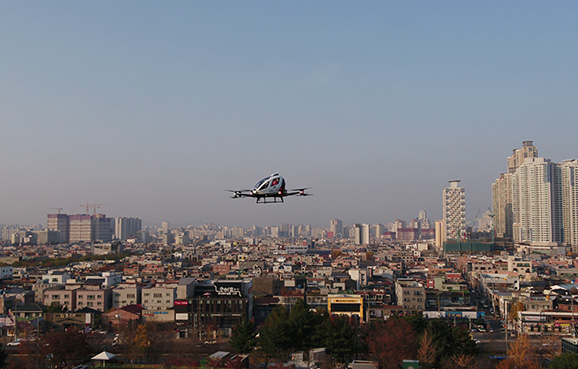 Congested highways and traffic buildup during rush hours might soon be outdated. Several companies are now developing air taxis, and some organizations are already making test flights. Many of these companies are envisioning air taxis manufacturing for passenger transport, but they are also developing the technology for air tourism and emergency response.
Test flights
EHang, a Chinese air mobility company, has recently completed three test flights in South Korea. The EHang 216 is an all-electric autonomous aerial vehicle that can carry two passengers.
The South Korean Ministry of Land, Infrastructure and Transport issued the first Special Certificate of Airworthiness for an autonomous air vehicle to EHang. The company's Urban Air Mobility solution demonstrated its capability in three selected locations that the South Korean ministry earmarks to be where they plan to commercialize the urban air mobility services between 2023 and 2025. The initial plan is to provide the air taxi service to Seoul's investment banking and financial district.
The first test flight was at Yeouido Island, considered as Seoul's Manhattan. The second test was over Daegu City, which showed the emergency response capabilities of the vehicle. The third flight was along the coastline of Jeju Island, to demonstrate its capability as an aerial sightseeing vehicle.
EHang 216 can be in the air for 21 minutes per charge. Cruising speed is at 100 km/h mark, and it can reach a top speed of 130 km/h (80 mph). EHang 216 had 16 independent rotors. Two rotors are mounted on each of its eight arms.
EHang is also doing test and demonstration flights in Dubai and the United States. It recently secured a test flight permit from the Civil Aviation Authority of Austria, a first for the European Union. But back in March EHang was granted long-term operational flight permit to conduct test flights in Norway.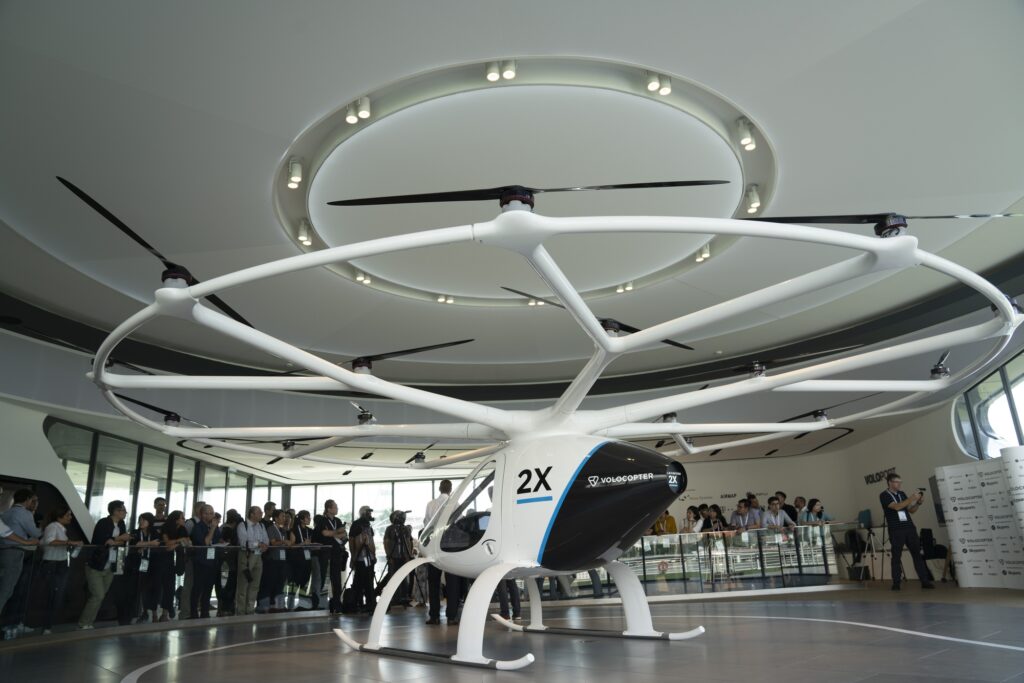 Other companies working on flying taxis
EHang is just one of the companies that are venturing into the electric flying taxi development. Several aircraft manufacturers worldwide are creating electric vehicles that can take off and land vertically.
Vertical Aerospace of Britain recently unveiled their design concepts for their VA-1X aircraft, which the company foresees will be taking passengers through major cities by 2024.
The British company believes that its electric-powered air vehicle, with a top speed of 150 miles per hour will be more environmentally friendly and cheaper than hiring a helicopter.
The European company Airbus is also in the list of companies interested in creating electric vertical takeoff and landing (eVTOL) aircraft. Airbus has a demonstration of its CityAirBus prototype last July. It has a range of 60 miles and can fly at 75 miles per hour carrying four passengers. Initially, it will be remotely piloted, but the company plans to have its CityAirBus completely autonomous.
Lilium, Uber, AeroMobil, Kitty Hawk, Moog, Opener, Terrafugia, Joby Aviation, Jaunt Aviation, Porsche-Boeing, Hyundai, and Aston Martin have released their concepts and prototypes of eVOL flying taxis.
Electric taxi service in Singapore
Singapore may yet be the first country to use flying electric taxis as it announced the service's availability by the end of 2023.
Singapore will be using the Volocopter, manufactured by the German firm, Volocopter GmbH. The unit carries one passenger. It can fly for 15 minutes on a single charge. The company is currently completing its flight trials, evaluation and certification in Singapore. Tickets for the initial flight are already available.
The city-state is known for being a leader in adapting and living new technologies because of its local capabilities in material science and battery research.
Volocopter GmbH is backed by Intel Corp., Geely and Daimler AG. The initial plan is to have 50 pilots, operations specialists and engineers to handle the Singapore air taxi flights. The air taxi will have a pilot and one passenger for the initial flights, but they plan to switch to two passengers when they get the approval for autonomous operations. Volocopter GmbH needs to secure the requisite approvals from the Civil Aviation Authority of Singapore and the European Union Aviation Safety Agency.
So next time you'll look up to the skies, you might be seeing more air traffic, as more companies join the race to manufacture air taxis, which can take passengers quickly to their destinations, as they need minimal space to land.