A Reliable But Cheap High End Device to Shake the Competition?
For less than $300, you can get a top shelf smartphone that "one ups" all the leading flagship smartphones in almost every category, and it's not a Google Nexus device. Can't believe it? You probably have to read the news or do some quick search with the "OnePlus One" keyword phrase.
The highly hyped up cheap high end tech, the OnePlus One, is finally official. After several weeks of leaks and rumors, the device dubbed as a flagship killer and even a Nexus killer is finally out in the open.
So what is it about this device that is worth the mention? Isn't this just another product announcement that only deserves a post on blogs devoted to commercial mobile gadgets? We admit that we had doubts on writing about OnePlus One since doing so may amount to something that could be considered as an endorsement. This blog is about technology in general and is not supposed to be playing with the hype the device's makers would want to solicit. Nevertheless, there's something about this device that is worth the blog space.
The Price
The main reason why the OnePlus handset deserves some attention is its ideal combination of high end specifications and low price. The Nexus line of Google showed us how it is possible to sell top of the line devices without being expensive but the availability was a big drawback. Nexus devices were only marketed to regions or areas deemed by Google to be useful enough in their quest for Internet dominance. This means that the relatively cheap Nexus devices were mostly sold only in countries with big Internet economies. If they were available in smaller markets, they no longer carried their attractively cheap prices.
With OnePlus One, the goal is to make cheap high end smartphones to more people. The company behind the device is composed by a team of former executives at Oppo. They claim to have no intentions of making any profit from the sale of the OnePlus One. This is not necessarily something we can believe in but the price itself is the evidence that can prove or disprove the assertion.
At a $299 price tag for the 16 GB model, the OnePlus One is arguably the cheapest high end flagship smartphone in 2014. It is half the price of almost all of the comparable devices offered by major manufacturers such as Samsung, Sony, LG, and HTC. Its price is on the mid-range level but its technical specifications are on par or even better than what other top shelf smartphones are offering.
Technical Specifications
OnePlus comes with most of the latest in mobile technology. It is powered by the fast and power-efficient quad core Snapdragon 801 clocked at 2.46 GHz. The graphics processor is a GPU Adreno 330 @578 MHz. It packs 3 GB of RAM and is available in 16 GB or 64 GB ROM options. Also, it has a microSD card slot for memory expansion.
This magnesium clad device supports 3G and 4G networks including the HSDPA 850, 900, 1700, 1900, and 2100 bands as well as the LTE 700, 1700, 1800, 2100, 2300, and 2600 bands. It is also Wi-Fi equipped and can serve as a Wi-Fi hotspot. It already uses Bluetooth v4.1 with A2DP. It also has NFC connectivity along with microUSB v2.0 and USB OTG and USB host support.
The display is a 5.5" LTPS IPS panel with a full HD resolution. This translates to a sharp 401 pixel density that is certainly not behind what the competition offers. The display is also protected by Corning Gorilla Glass 3.
Audio performance for OnePlus is also not inferior to what leading brand name competitors are offering. It is equipped with JBL stereo speakers. For recording, it uses a tri-microphone system with noise cancellation.
The rear camera is a 13 MB Sony BSI module with dual LED flash. Based on the sample photos released earlier, this camera is not going to be a slacker as it is capable of delivering punchy photos with appealing sharpness, brightness, and white balance. The front camera, on the other hand, is a wide angle module with a 5 MP resolution and full HD video recording capability at 30 frames per second.
The OnePlus One will be sold with Android KitKat version 4.4.2 with CyanogenMod 11s modification
Caveat
We decided to write this post not to further the hype as we also intend to point out some of the possible drawbacks that other tech sites may have missed. For one, it is worth noting how the OnePlus One is a new device coming from a new company with no track record of delivering high quality devices. The people behind OnePlus may come from Oppo but that is not a guarantee that they can actually deliver all the hype they have been fanning.
Also, there have been no reviews of the actual device yet. Everything the public knows about the device is mostly coming from the device's manufacturer itself. It is advisable to wait for the reviews before buying the product. $300 may be cheap relative to how much other high end devices are being priced, but it is still not a small amount of money you can afford to recklessly spend away.
Some of the important aspects that need to be thoroughly tested are the software performance, camera performance, battery life, and possible heating issues. Ergonomics may also need some assessment considering the footprint of this 5.5" device. Moreover, buyers need to consider the level of customer support OnePlus can provide. What happens if the device fails? Will the company be able to promptly fix or replace it? What about the software updates? These are important questions that need to be answered.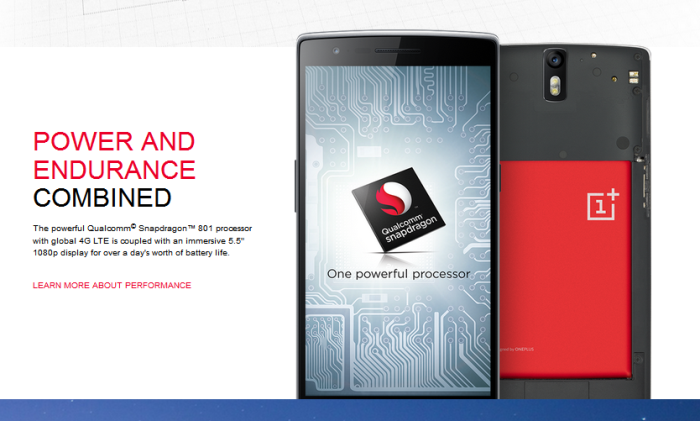 No, we are not being negative to OnePlus. We definitely like that something like the OnePlus One is now available to compete against the expensively priced flagship handsets from leading manufacturers. On paper, it is arguably the best deal for Android fans. However, as tech users, it is important to pose the reminder on ensuring product quality or reliability. This does not mean, however, that OnePlus deserves an overload of skepticism.