What You Need to Know about HarmonyOS
When the former president of the United States banned Huawei on May 15, 2019, it disrupted Huawei's business operations. The ban prevented the Chinese tech giant to work with US-based companies, such as Intel and Qualcomm, and particularly Google apps and services, such as the Android platform.
Innovation under pressure
For a while, the inability to access technology and suppliers from US-based companies hampered its business operations. But it did not stop the company to look for solutions, because they cannot afford to stop production.
Huawei countered the ban by developing an OS for its products. The result was the introduction of HarmonyOS last year (2020), which was launched on June 2, 2021. This is Huawei's in-house operating system for its various IoT devices. Huawei may be banned from being partners with various companies in the U.S., but it opened the doors for other companies to be partners with the Chinese tech company. For the development of HarmonyOS, Huawei's partners include Swatch and Tissot, both Swiss watchmakers, SZ DJI Technology of China, a drone maker, and Midea, a giant in home appliances manufacturing, also from China.
Being new and different, it is not surprising that many people are curious about this smartphone operating system, which can be used for other electronic devices.
What you should know about HarmonyOS
When Huawei started developing its operating system, it used the Chinese name, Hongmeng, which the company later called Harmony. It is an operating system that the company claimed it has been developing since 2012. Huawei said that some of its top executives had a closed-door meeting to discuss how to minimize their company's reliance on Android. The meeting was led by Ren Zhengfei, the founder of Huawei. What the company thought of during the meeting happened.
When the company lost access to Google services after being banned by the U.S. government, it was not able to use the proprietary services that are requisites on Android-powered devices sold outside China. However, the Android Open Source Project (AOSP) can still be used freely by anyone.
In August 2019, three months after being blacklisted, Huawei introduced HarmonyOS.
But at that time, the telecoms equipment manufacturer announced that it would not deploy Harmony on its smartphones. They still believed that they can continue using the Android OS so that they can protect the platform's app ecosystem. But that did not happen, so Huawei changed its plans.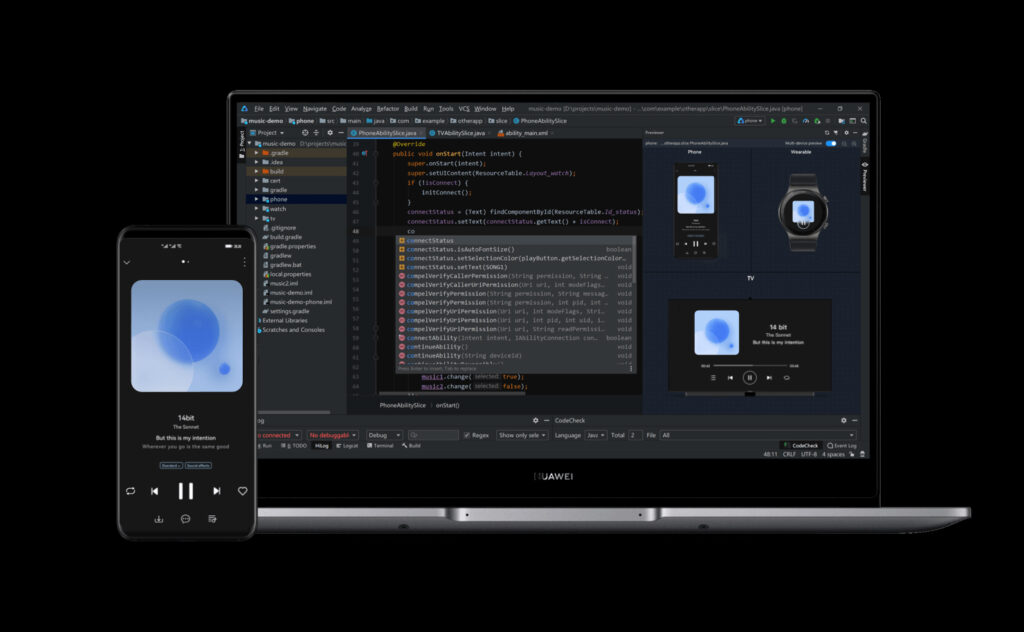 Positioning Harmony
Huawei deployed HarmonyOS on its smartphones. However, the company is positioning HarmonyOS as an operating system that can be used on all IoT devices. In short, Huawei makes its OS a flexible platform, different from the purpose of Apple's iOS and Android.
To prove their new positioning strategy, the first device to have the modern operating system was the company's budget brand smart TV, Honor. However, the brand was sold last year to Shenzhen Zhixin, a China-based consortium.
During HarmonyOS's introduction in August 2019, the company announced that it will be used later on various products, including virtual reality glasses, earphones, smart speakers, cars, wearables, computers, DJI drones, and Midea appliances.
According to the company's head of consumer business group, Huawei intends to make HarmonyOS the most advanced operating system for the next-gen IoT devices in the world.
It's not an Android version
Huawei uses its propriety architecture to run HarmonyOS, but it also uses a Linux kernel and AOSP code. And just like it announced before, it's running on microkernels, which are flexible and lighter, making the system more suitable for various IoT devices. On the other hand, Android runs on monolithic kernels.
On the documentation of HarmonyOS, it is stated that the system is using a multi-kernel design. This includes the Linux kernel and the microkernel the company built from the brand's LiteOS.
But it will still be a long and arduous uphill climb for Huawei. Many companies have tried to nudge the duopoly of Android and iOS. Without access to apps like Facebook, YouTube, Google, and more, it will be difficult to convince other device manufacturers to switch to HarmonyOS, which, incidentally, has already released HarmonyOS 2.
It will keep on trying
Ultimately, Huawei's goal is to bridge the gap between different devices. The company continues to try and make its plans work. While the U.S. is still its biggest market, it is shipping devices to its other overseas markets with HarmonyOS installed, such as their tablets and Watch 3 smartwatches. Most of their products will be able to upgrade from EMUI to HarmonyOS.
Huawei has plans to make HarmonyOS installed on as many devices as possible. It has partnered with thousands of hardware makers, app developers and hundreds of service providers to realize its vision.
What can HarmonyOS do?
Bluetooth connectivity allows different devices to work together, but different gadget and products of Google and Apple run on different operating systems, and connectivity issues between them can frustrate users.
On the other hand, HarmonyOS allows all gadgets using the operating system to work in sync. So when you have a Huawei smartphone running on HarmonyOS, you can pull a video from an action camera recording in 4K and drop the video into a laptop for editing. A video playing on a laptop will automatically pause when the user receives a call on a connected smartphone, which will be transferred to a paired headphones through a paired smartwatch. What does this mean? It means that when you pair all your devices running on HarmonyOS, you create an ecosystem where the connected devices work seamlessly together.
With HarmonyOS, you can create a super device by pairing them, with one device controlling the others. It enables seamless data sharing through a simple interface.