Porsche Launches New Tesla Competitor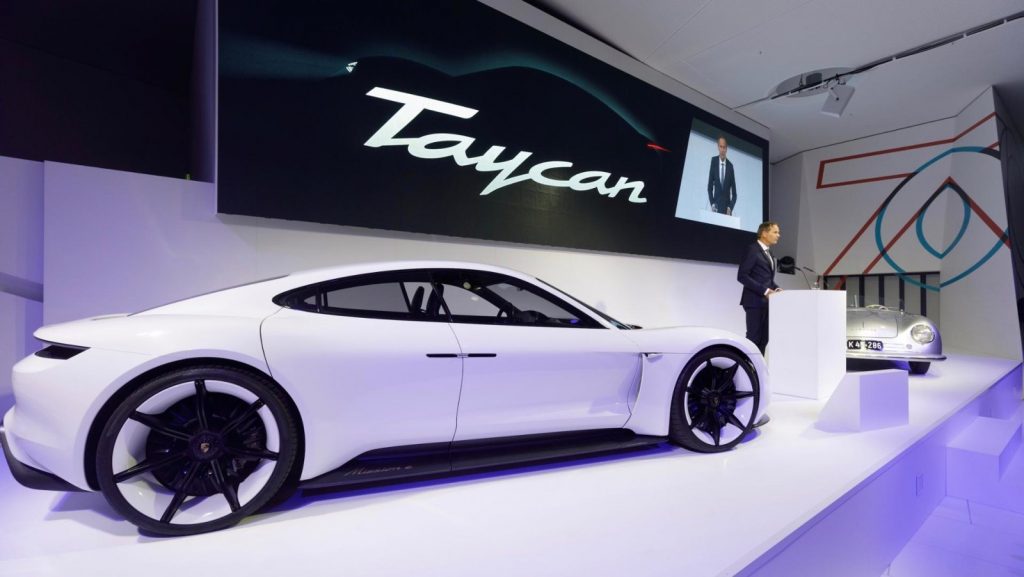 The first-ever electric Porsche Sedan is coming your way and it is set to kick back the Model S from Tesla – will it win?
To announce the much-awaited sustainability plan of this German car maker, Taycan was revealed simultaneously in three different locations: in a wind farm in China, solar farm in Berlin, and in Niagara Falls, Canada – which represents hydropower. The electric powered car known as Mission E was first unveiled in 2015. It will be available in the market by the end of 2019 and it will be called the Taycan Turbo and the higher-powered version, Taycan Turbo S. According to Porsche, they will be releasing less powerful – and hopefully more affordable – electric cars later this year. In 2020, Taycan Cross Turismo will join the e-family.
Porsche electric vehicle
At the world premiere, Porsche executives displayed the high-performing abilities of its pioneer electric vehicle. The four-door sedan is expected to charge 80% in just 22.5 minutes and will have 800-volt battery. In addition, the Taycan Turbo S can run from zero to 60 mph within 2.6 seconds while the regular model takes 3 seconds. Both cars feature a max speed of 161 mph. With their rear and front electric motors, they are an all-wheel drive. Furthermore, Porsche revealed that both models can recharge faster compared to its competitors.
The interior features a 10.9 inches central touch screen which holds the switches, buttons, and other controls. It also has a built-in Apple Music and voice assistant – that you could access by simply saying "Hey Porsche". Another screen for the passenger is available at US$1,000. Compared to the luxury sedan of Tesla, this one is much more expensive. Taycan Turbo has an initial price of US$150,900 and US$185,000 for the Turbo S model. The price is expected to increase later this year, if the car is made available to the public. The Tesla Model S has a starting price of US$79,990 and its higher-powered model is at US$99,990. It is not cheap but it is much lower compared to the newest vehicle from Porsche.
Taycan Turbo vs. Tesla Model S
In addition, Autolist – a used car site, recently did a survey to determine if 1,500 car shoppers were convinced that Porsche's latest Taycan Turbo is much better than Tesla's Model S. The latter reigned supreme with 45% of the respondents voting for it, and only 33% for the Taycan. By the end of July, there are already 30,000 pre-orders for Taycan, however this isn't enough to beat its competitor, Tesla.
Another feature about Tesla that stood out to the owners was its Supercharger network, which offers maximum advantage for those who are away from their home. It only takes 30 minutes of charging time which is unbelievable. According to survey, 24% of shoppers chose Tesla over Porsche because of this.
Where can you find Porsche-only charging system in Europe, North America, China, and other countries? The company worked with Electrify America charging network and it will provide charging at Porsche dealerships, which is only the beginning.