Snapdragon 8 Gen 1, Qualcomm's Next Chipset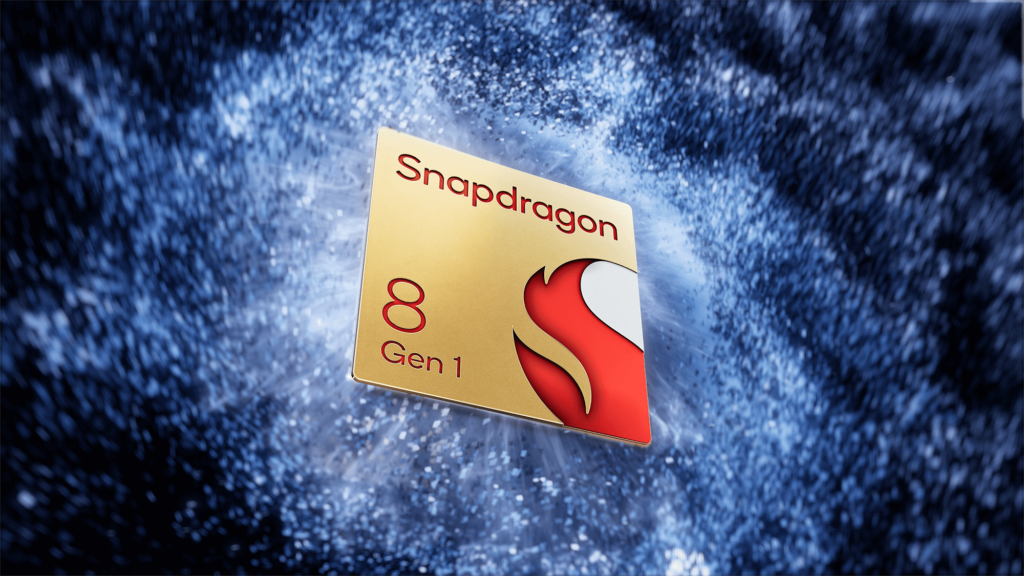 It's only been a year since Qualcomm introduced its mobile system-on-chip, Snapdragon 888. Now, it is back with the latest one and a new naming convention. Qualcomm recently unveiled the Snapdragon 8 Gen 1 during their two-day Snapdragon Tech Summit 2021 that ended on December 1, 2021.
Qualcomm promises that the Snapdragon 8 Gen 1 will have desktop-level mobile gaming, 8K HDR video, 200-MP photos, and faster download speeds using 5G.
Impressive stats
The next-generation chipset is for flagship Android devices, and it comes with plenty of improvements, according to GSMArena.com. For example, the chipset shifted to the new ARMv9 instruction set, and the new naming convention defines its class and generation.
In the new naming scheme, class 8 means flagship, and one represents the first generation. This is the first 4nm chipset of Qualcomm and also the first to employ this new CPU architecture. It still has the three-cluster design. But the cores are now ARMv9 based, which means that the prime core of the CPU is Cortex-X2, running at 3.0GHz. In addition, the CPU has three performance cores based on the Cortex-A710 for backup that runs at 2.5GHz and four efficiency cores, running at 1.8GHz, based on the A510.
With all these features, the new chipset will be 20 percent faster than the Snapdragon 888, but surprisingly, its power usage will be 30 percent lower.
Regarding its CPU, the new Adreno will give the system a 30 percent performance boost. It will also save power by 25 percent because of its new architecture. With the Adreno Frame Motion Engine, the CPU can render a game at twice the frame rate with the same power.
Another impressive feature is volumetric rendering that is desktop-class. You can achieve dramatic lighting effects with volumetric lighting. Let your creativity fly with its new variable-rate shading pro, an image-based VRS, which helps streamline the VRS integration into various games.
The new Snapdragon 8 Gen 1 supports carrier integration for the uplink, which is another first. Likewise, it can deliver peak speeds of up to 10Gbps, with its integrated X65 5G modem supporting mmWave and sub-6 operations.
The Snapdragon 8 Gen 1 features an integrated X65 5G modem, which supports sub-6 and mmWave operation and can deliver theoretical peak speeds of 10 Gbps. In addition, it also supports carrier aggregation for the uplink for the first time.
It has Wi-Fi 6 and 6E support for local connectivity, while Bluetooth received improvements, too, supporting Bluetooth LE audio. It's capable of streaming CD Lossless Audio through Bluetooth LE. The chipset's broadcast audio feature lets one source broadcast a single or several audio streams to a limitless number of receivers. It also supports voice-back channels and stereo recording.
As many smartphone users are now aware of security issues, Qualcomm includes the Trust Management Engine that was available in Snapdragon 888. The security feature sits below the hypervisor, and the unit will remain secure even if the security zones above the hypervisor are compromised.
Which smartphones will have it first?
There is already a buzz that the new Snapdragon 8 Gen 1 will be the main feature of several smartphones that will come out at the end of 2021. However, this negates the earlier prediction that it will be on Samsung's Galaxy S flagship phones since Galaxy S22 is expected to hit the market around February 2022.
There are commitments, but no company is giving a definite answer. So far, commitments to use the new Snapdragon are from Honor, Xiaomi, ZTE, Sony, Nubia, Motorola, Oppo, and OnePlus. However, eager watchers predict that Xiaomi 12 will be the first phone to use the latest Qualcomm chipset.
Regardless of the Android phone that will debut the Snapdragon 8 Gen 1 chipset, you can expect advances in artificial intelligence, gaming, and cameras, as Qualcomm wants to make the Snapdragon brand the leader in a higher mobile experience.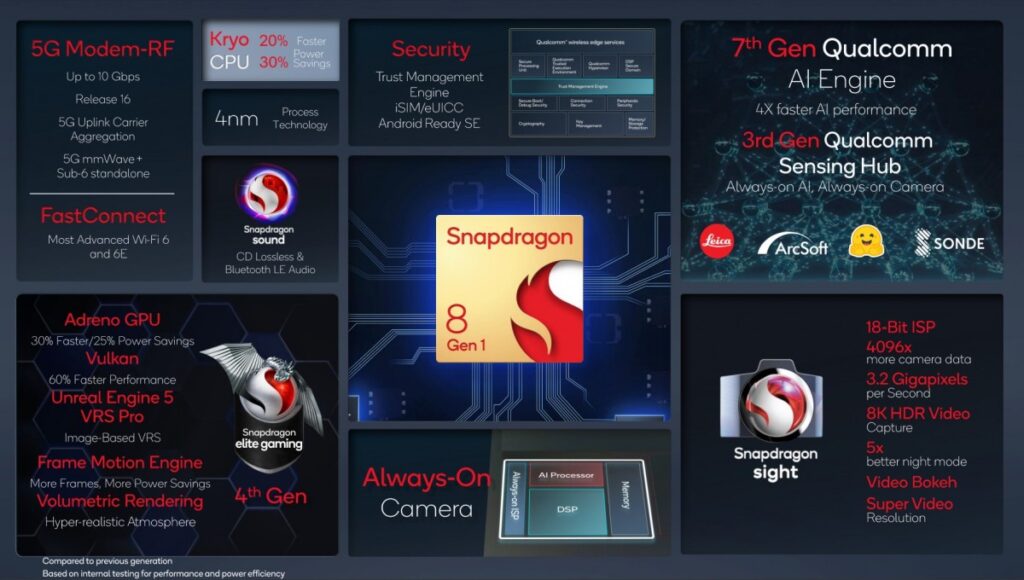 An overview of what's new with Snapdragon 8 Gen 1
Qualcomm built the Snapdragon 8 Gen 1 to challenge other chipsets, such as Google phones Tensor and Apple's high-performance chips. Here are the new features of Gen 1.
Performance
It is built on a 4-nanometer process, which is smaller, so more transistors can fit into the chipset to improve power efficiency.
It includes a Kryo CPU that is 20 percent faster and 30 percent more power-efficient than Snapdragon 888.
The Adreno GPU shows 25 percent power savings and 30 percent improvement in speed, which means it can be one of the best for gaming phones.
Camera
Qualcomm added an 18-bit image signal processor (ISP) in Snapdragon 8 Gen 1 that can capture images in 4K to give users heightened sharpness, color, and dynamic range. Image capturing is faster at 3.2 gigapixels per second, enabling you to have 240 burst shots per second. The new Snapdragon's ISP supports 8K HDR video capture, another first for mobile devices. Plus, it has a new Bokeh engine, allowing users to add soft backgrounds. The fourth ISP supports the always-on functionality for the front camera. It consumes minimal power, enough to unlock the phone using face detection.
Gaming features
The recent chipsets Qualcomm introduced included the Snapdragon Elite Gaming features. The feature brings mobile users a desktop-quality gaming experience, which the company will also have in the Snapdragon 8 Gen 1, including:
New Adreno Frame Motion to boost frames per second
Volumetric rendering for a desktop-style quality capability to render specific graphics realistically, such as smoke and fog.
Variable Rate Shading Pro allows users to have greater control when fine-tuning the game performance, which will be very appealing to game makers.
Artificial intelligence
Today, many smartphone users enjoy features using artificial intelligence, and Qualcomm likewise uses AI to ensure that it measures up to the competition. The Snapdragon 8 Gen 1 includes a 7th Gen AI Engine that doubles the size and performance of the engine's tensor accelerator's shared memory. Qualcomm says their AI engine is four times faster than the 888, with a 70 percent improvement in power efficiency.
It also integrates Leica Leitz Looks filters, which improve the colors and bokeh effects on images. The natural language processing tools of Hugging Face can analyze and prioritize the received notifications. The company is currently working with Sonde Health to add an on-device AI (Sonde's vocal biomarker) for analyzing user voice patterns to determine potential respiratory or mental health risks.
Connectivity
The new chipset will feature a 4th-gen Snapdragon X65 5G modem system. It will give users the capability to hit speeds of up to 10Gpbs. It will also be the first to feature 5G uplink carrier aggregation, which will boost a smartphone's upload speeds. It will also include the proprietary FastConnect 6900 Mobile Connectivity system supporting Wi-Fi 6 and 6E. Theoretically, it could reach wireless speeds of up to 3.6Gbps.
Consumers may be excited about the arrival of Snapdragon 8 Gen 1-powered smartphones, but experts are looking forward to benchmarking whichever phone will be available by the end of the year. Numbers and stats are impressive, but they want to see if the features are as promised for the techies.